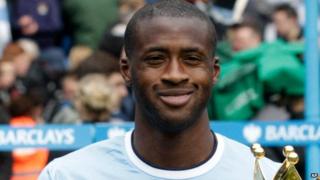 AP
It's not been a happy birthday for Manchester City footballer Yaya Toure.
The club gave him a cake last week as the team were on a flight to Abu Dhabi in the Middle East.
But the midfield star claims City's owners showed him a lack of respect and ignored him on his birthday.
Toure's agent Dimitri Seluk told BBC Sport that Yaya's "very upset" and could leave City.
Toure initially played down the row and wrote online: "Don't take words that do not come from my mouth seriously."
But he later posted a message that said: "Everything Dimitri said is true. He speaks for me. I will explain after the World Cup."
Now Toure has sparked rumours he could leave City after saying he doesn't know who he'll be playing for next season.
He was asked if he could be play for another club and he replied: "Yes. We never know in football. We never know."