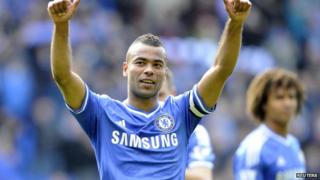 Reuters
Ashley Cole is set to leave Chelsea next season after eight years at the club.
On Tuesday he tweeted that it's unlikely he'll be at Chelsea next season.
The 33-year-old defender retired from international football earlier this month.
Ashley Cole has played over 200 appearances for the club, winning nine trophies, including the Champions League and Premier League.
"I am weighing up my options for playing next season with my agent," he wrote.
"Sadly, it does not look like Chelsea will be one of them."
The club hasn't yet confirmed he is leaving but from his comments it looks likely.
He said: "Thank you Chelsea for making my eight years a pleasure.
"We've been through a lot, good and bad, and to the fans that have stood buy me through thick and thin, I will always have you in my heart."