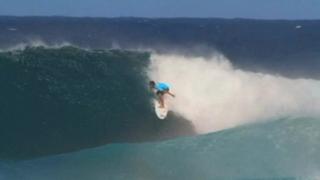 Man-made surfing lake makes waves
Britain's first artificial surfing lake is due to open in Snowdonia next year.
New technology means three-metre-high waves can be created at the touch of a button.
The giant man-made lake is three times the size of Wembley stadium. It's being built the Welsh mountains and a second site planned for Bristol.
It will be a world first seeing the mechanical wave in action. It is set to transform the sport of surfing, giving it the potential to be considered as an Olympic event.
BBC News was given exclusive access to the prototype being developed in Spain.
Watch more Newsround videos