More than a third of South Sudan's population are on the edge of starvation according to the United Nations.
Officials say the country is on the brink of famine, with four million at risk as a result of civil war.
Donors including the US and the UK have pledged more than £360m in aid to help combat the crisis.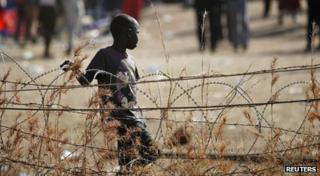 Reuters
South Sudan is the world's newest country and was only created in 2011 after it gained independence from Sudan.
But civil war broke out last December when the president accused his deputy leader of trying to take power. This divided the army into two sides.
Clashes between rebels and government forces fuelled by ethnic tensions have continued.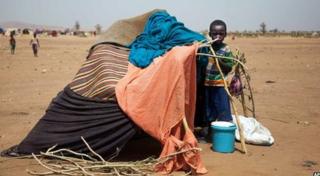 AP
Some one million people have fled their homes, food markets have been wrecked and many have abandoned their livestock and land.
The United Nations has accused both sides of crimes against humanity and violence.
Children at risk
In addition to starvation, South Sudan is facing a cholera outbreak, according to international aid agency Oxfam.
A further 7.3 million people are at risk of hunger and an estimated 223,000 children face severe malnutrition.