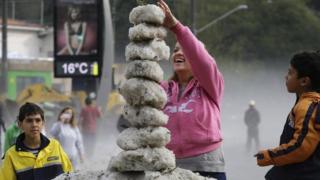 Brazil turned white by freak storm
An unusually heavy hailstorm in Brazil's largest city, Sao Paulo, has brought residents out onto to the streets to play with the ice it left behind.
For many of them, it was the first time they had seen huge ice balls covering the streets of the usually hot city.
The hail left many roads flooded or coated in white.
Sao Paulo has seen plenty of hail in thunderstorms, but the thick layer of ice on this occasion was unusual.
Snow has not been seen in Sao Paulo since at least the 1970s, and some say not since 1918.
Watch more Newsround videos