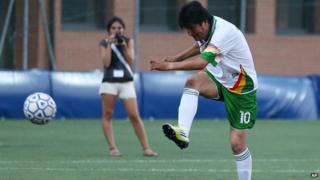 AP
A professional football club in the south American country of Bolivia, has signed President Evo Morales as a midfielder for next season.
The 54-year-old leader is a big football fan, and will play next season for Sport Boys who play in the country's first division.
The club said the president would play for about 20 minutes per match but not every game, as he's quite busy!
He'll be paid the minimum salary, about $214 (£127).
"He loves football and plays well," said Sport Boys' president Mario Cronenbold. "He'll wear the number 10 shirt."
"We'll send him a list of matches and he'll choose which ones to play in," he said.
The president is said to be very excited with the idea of playing.
In the past he's played in several friendly matches with journalists, union leaders and other presidents.