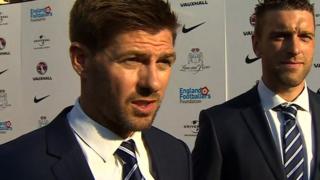 England's young players 'scary'
England captain Steven Gerrard says the young players in England's World Cup squad are "scary".
The Liverpool star was talking about players like 20-year-old Ross Barkley, Raheem Sterling who's 19, and 18-year-old Luke Shaw and says they'll be serious opponents even though they don't have that much international tournament experience.
England's first match in Group D in Brazil, is against Italy on 14 June in the city of Manaus. They also face Uruguay on 19 June and Costa Rica on 24 June.
Watch more Newsround videos