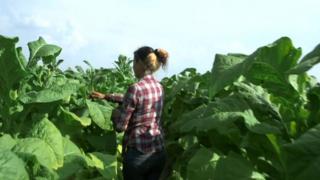 US children aged 12 pick tobacco
In the UK we're used to the idea that you have to be an adult to do difficult or dangerous jobs.
But in some parts of America children work long hours in order to earn money.
In England and Wales a child has to be 13 to work - and there are strict rules about what young people can do.
In parts of America, like North Carolina, children as young as 12 can do difficult work like tending to tobacco crops.
Ayshah has been looking into the story.
Watch more Newsround videos