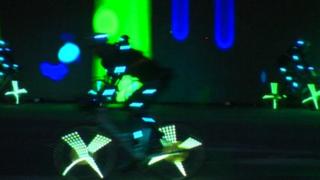 Ghost cyclists light up the night
Glow-in-the-dark cyclists have brightened up the streets of Leeds as part of the countdown to the Tour de France.
The "Ghost Peloton" is a performance organised by Scottish arts company NVA and the Phoenix Dance Theatre in Leeds.
The event marks the 50-day countdown to the start of the Tour de France cycle race in Yorkshire.
BBC Look North reporter Spencer Stokes went to see the show.
Watch more Newsround videos