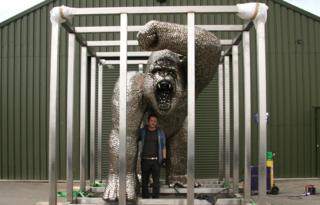 A huge gorilla statue made entirely of spoons has been unveiled by Prince Michael of Kent.
It was created for entertainer Uri Geller who is known for bending spoons on television, apparently with psychic powers.
The 3.6 metre high sculpture is made of about 40,000 spoons and took five months to build.
It was put together at the British Ironworks Centre in Oswestry.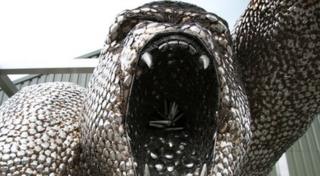 The spoons used in the gorilla were donated from across the world.
It is due to be transported to Mr Geller's home in Berkshire on 28 May.
Mr Geller said the statue as "an amazing piece of art".
"I am not going to look at the gorilla too hard in case the spoons bend," he added
Sculptor Alfie Bradley said: "Initially we thought we only needed 5,000 spoons, but it's incredibly hard to calculate and it turned out we actually needed 40,000."