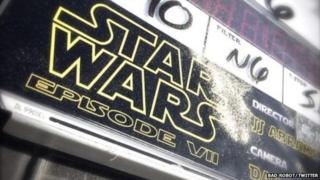 BAD ROBOT/TWITTER
Filming on the the new Star Wars Episode VII movie has begun.
Director JJ Abrams production company, who are making the film, tweeted a picture of a clapperboard with the hashtag #dayone.
It's thought filming is under way in the desert in Abu Dhabi while most scenes will be filmed at London's Pinewood Studios.
The film will have three characters from the original movies: Luke Skywalker, Princess Leia and Han Solo.