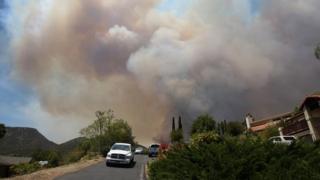 Thousands more flee California wildfires
Raging wildfires have forced thousands more people to leave their homes in America.
Firefighters have been battling nine different blazes in California that have destroyed houses, closed schools and caused more than 12 million pounds worth of damage.
They had managed to put out parts of the wildfires in southern California, allowing thousands of people to return back to the area.
Months of drought have made California prone to wildfires this year, with firefighters having to contend with sweltering heat whilst battling the fires.
Watch Ayshah's report to find out more.
Watch more Newsround videos