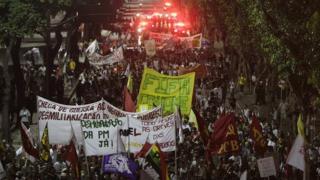 Anti-World Cup protests in Brazil
Riot police in Brazil have fired tear gas at thousands of demonstrators in Sao Paulo and Rio de Janeiro, marching against the cost of hosting the World Cup.
Some demonstrators hurled stones while others burned tyres and blocked roads.
They say the billions of pounds being spent on next month's football tournament, should be spent on social projects, transport and housing.
Lots of workers, including teachers, were also on strike across the country.