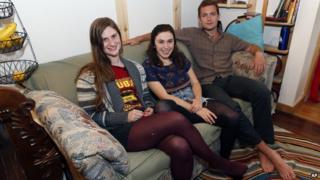 AP
Three friends in New York found thousands of dollars in a second-hand sofa they bought.
Reese, Cally and Lara discovered $40,000 (£24,000) in cash, stuffed in envelopes in the sofa they paid $20 for in a charity shop.
The roommates used a name on one of the envelopes to track down the owner, an elderly woman.
The woman said her daughter sold the sofa while she was in hospital and didn't know the money was inside.
Reward
"We all agreed that we had to bring the money back to whoever it belonged to... It's their money, we didn't earn it," Lara said.
When they returned the money, the woman rewarded the three roommates with $1,000 (£600).