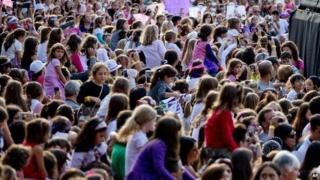 Warning over concert ticket scams
People are losing money by buying tickets for concerts and gigs which then end up being fake.
The Association of Chief Police Officers (Acpo) says criminals took around £3.7 million from people through scams in 2013 - up £1million on the previous year.
The scams were typically carried out over the internet.
People were also targeted when buying tickets for sporting events, flights and festivals.
Commander Stephen Head, who works for Acpo fighting the scammers, says the problem's getting worse.
"Millions of pounds were lost last year and millions more could go the same way in 2014," he warned.
"Taking a punt on an unofficial seller, be it over the internet or face-to-face, is just not worth the risk."
Watch more Newsround videos