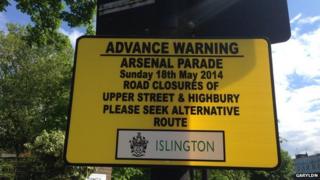 GaryLDN
A London council has put up signs warning of road closures for an Arsenal FC victory parade, days before the FA Cup final has even been played.
If Arsenal win the match they'll be crowned FA Cup Champions, and will celebrate with a parade through the area.
But if they don't, there won't be any parade.
Islington council has put up the parade signs in London with some people posting pictures on social networking sites in surprise of the earliness.
The Council put the full information on their website stating: "If they win, a celebratory parade will take place in Islington the following day, Sunday 18 May 2014."
The match takes place on Saturday 17th May afternoon against Hull City in the FA Cup final.