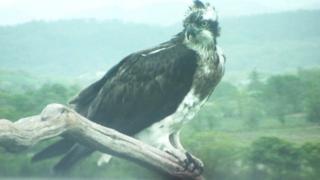 'Operation Osprey' underway in Wales
Local people in a part of north Wales have started an operation to watch over a pair of ospreys who are nesting there.
Based in a caravan, 'Operation Osprey' is made up of 45 volunteers who take it in turn to watch over the birds 24 hours a day.
Ospreys are one of the rarest birds in Britain and this particular pair have been returning to the same nest in Porthmadog every spring, for the last 10 years.
They returned in March this year to lay their eggs which are due to hatch in the next few weeks.
Watch more Newsround videos