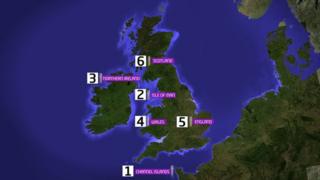 The Commonwealth Games baton returned to the British Isles, arriving in Jersey on Sunday 11th May.
The Queen sent it off with a hidden message inside.
It has already been around the world to 70 nations and territories which are part of the Commonwealth.
The final relay runner will hand the baton back to the Queen at the opening ceremony in Glasgow on July 23.
She will then read out the message and officially open the Games.
But where in the UK will it travel?
Baton Route
11-15 May - Jersey and Guernsey
Check out the report below to see school kids in Guernsey carry the Queen's Baton.
16-19 May - Isle of Man
20-23 May - Northern Ireland
24-30 May - Wales
31 May - 13 June - England
14 June - 23 July - Scotland