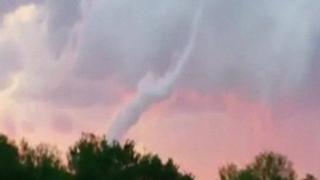 Tornado rips through town in US
A tornado has ripped through a small town in Missouri, severely damaging homes and downing trees and power lines.
The tornado struck over the weekend but luckily no one was hurt according to local media reports.
Around 800 people live in the town of Orrick which is near Kansas City in America.
Paul Schmidt lives in the neighbouring state of Kansas and managed to film the tornado as it passed through.
See the tornado and the damage it caused.
Watch more Newsround videos