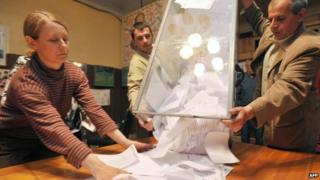 AFP
A vote has taken place in parts of eastern Ukraine to determine whether people there want to stay part of the country or become independent.
Pro-Russian organisers behind the referendum have declared victory, claiming 9 out of 10 people in the Donetsk region voted to become independent of Ukraine.
However, the vote has been called illegal by the European Union and the United States.
Ukrainian President Olexandr Turchynov has called the vote a "farce".
Read Newsround's guide to find out more information about what's happening in Ukraine.