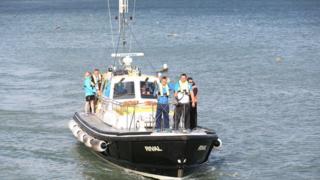 Commonwealth baton arrives in Jersey
The Commonwealth Games baton is back in the British Isles after arriving in Jersey.
Travelling by boat, it was carried on to the island by Olympic and Commonwealth diver Tom Daley and Jersey athlete Zane Duquemin.
Hundreds of people turned out to greet them as they carried the baton up the beach on Sunday evening.
"Carrying the baton was a massive responsibility and a massive honour to carry it on to the British Isles," said Tom Daley.
The baton will travel next to Guernsey before heading to the Isle of Man.
Watch more Newsround videos