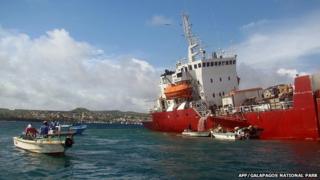 AFP/galapagos national park
A container ship carrying oil has become stuck on rocks in the Galapagos islands off the coast of South America.
The Galapagos islands are famous for their unique wildlife and are considered an area of natural beauty.
The Galapagos National Park said the ship does not pose a threat "for the moment".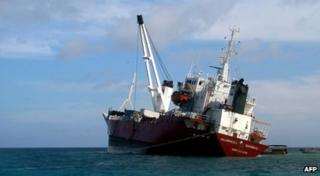 AFP
The ship is carrying more than 60,000 litres of oil and the authorities are planning what to do if it leaks into the sea.
But inspectors say the part of the vessel that is on the rocks is distant from the fuel tanks.
The ship's cargo is being taken off the ship to make it lighter. It's hoped a high tide will lift it off the rocks.