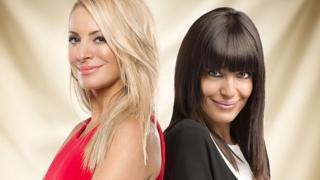 Claudia Winkleman will be the new host of Strictly Come Dancing, the BBC has confirmed.
She will replace Sir Bruce Forsyth who left the show earlier this year. He said he found presenting live TV "very strenuous".
Claudia has already presented the show a few times and co-hosts the Sunday night results show.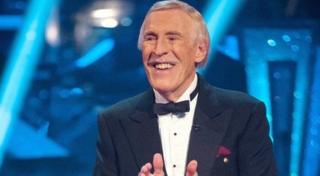 She will host the show with Tess Daly when it returns in the autumn.
Tess will step into Brucie's role of introducing the acts and taking the judges' votes, while Claudia will chat to the celebrities after their performances.
Claudia said: "I have loved Strictly since the second it appeared on our screens and I am honoured and thrilled to now be part of the Saturday night team."
"Working alongside Tess is always fantastic and I can't wait to spend the weekends with her," she added.
Do you think Claudia is the right choice?
I would have chosen Adele my favourite singer.
Jessica, London, England
I cant wait to see Claudia, I think they will make a great team - but Bruce will be missed.
Hannah, Manchester, England
I am sad as I found Bruce funny and I will miss him.
Poppy, London, England
I would definitely have chosen someone else. I think Anton Du Beke would've been perfect for the job!
Jess, Staffordshire, England
I don't think it was the right choice. It should have been Anton Du Beke all along.
Beth, Swansea, Wales
I don't think Bruce should step down, but if he has to a previous winner should do it, not Claudia.
Oliver, Collompton, England
Personally for me, I would have chosen David Walliams as he is really funny and has been on TV before so he will know how to do it professionally.
Mia, Nottingham, England
I think it is great she is hosting the show with Tess. She is always fun and always makes me laugh whenever I watch her!
Ally, London, England
I think Claudia was a really good choice because she knows what to do.
Joy, Liverpool, England
I think Anton should have replaced Bruce because he is amazing. However Claudia will be great.
Jennifer, Windsor, England
I'm really happy because I wanted her to replace Bruce!
Ella, London, England
I would have chosen Ariana Grande or a previous winner of Strictly Come Dancing.
Jai, Bedford, England
I think Claudia is the right choice because she already presents the Sunday show and she is a good presenter in general. I say good luck to Claudia and I hope she is good at presenting the Saturday show.
Amelia, Grimsby, England
Strictly is good, but Claudia is not as good as Bruce. I don't know but we just have to try it. It will be different.
Sinead, Cambridge England
I think they have made a good decision because she is a familiar face to the show and people already know a bit about her. She seems good friends with Tess Daley, which you need.
Charlotte, Oxfordshire, England
I think that Claudia will be a good host but I think Anton Du Beke will be a lot better because he is very lively and it will be nice to have a man and lady! Anton is very popular and funny so i think he would be perfect!!
Ruby, Billingshurst, England
I don't think she should replace Bruce I think it should be another male like Anton Du Beke.
Abigail, Cullompton, England
Not a good choice. Would have liked Aton or someone like that - or a funny comedian.
Evie, High Wycombe, England
I watched The Great British Sewing Bee when Claudia hosted that, so if she can host a sewing programme she can also host a dancing programme! On Sunday nights for the results show I always thought it was better with Claudia and Tess, there is something between them that goes well!
Sara, Bath, England
I think Claudia was a good choice and can't wait to watch the show, but Bruce is the best.
Molly, St Ives, England
I don't think that she should be the next presenter. I think Graham Norton would have made a great presenter.
Eleanor, Sheringham, England
I think Claudia is a great choice because she has hosted Strictly It Takes Two and the main show whenever Brucie was not there.
Jon, London, England
I think it is the right choice because when Sir Bruce was not there Claudia did it and she was perfect. But all the same I did like Bruce.
Lily, Nuneaton, England
I think that it should be a boy doing it because that makes it even. Claudia is a good host but maybe they could have got a comedian. But I'm glad they chose her.
Grace, Ledbury, England
In my opinion I think that Claudia is much better than Tess so I think it is great that she is the new host.
Joseph, Northampton, England
I think that Claudia is a good choice but I think Sir Bruce was still the best.
Freya, England
I think it's great that Claudia is hosting the main show.
Lola, Ampthill, England
Strictly Come Dancing used to be my favourite programme but now because Claudia has joined I won't be watching it again.
Amelia, Hertfordshire, England
Thank you for sending us your comments. This chat page is now closed.