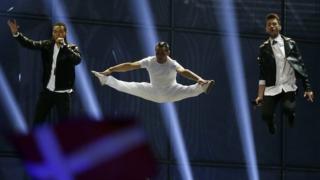 Eurovision entry sung on a trampoline
Eurovision - it's one of the most watched music shows on Earth... it's also one of the most bizarre.
Check out Greece's entry - Freaky Fortune - who are performing their track Rise Up while bouncing on a trampoline!
The final takes place on Saturday in Copenhagen, Denmark.
Watch the video clip to see them in action.
Watch more Newsround videos