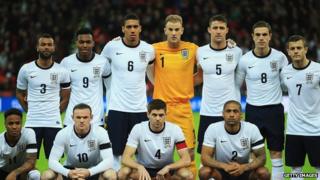 Getty Images
The chairman of the English Football Association has been forced to defend new plans to try and improve the national footy team.
A special commission's been looking into how to produce more top quality English players in the future and presented its ideas yesterday.
They include stricter rules on the number of foreign players as well as having a new league for Premier League B teams.
That idea was criticised by lower division teams but FA Chairman, Greg Dyke, says doing nothing is not an option.
The commission was set up to look at the declining numbers of young English players playing in top teams and increase the amount of talent future England managers have to choose from.
We want to know what you think.
What would you do to improve the England national team in the future?
How can we produce our very own Ronaldo or Messi?
Should Premier League teams be forced to play more English players?
Or do you think there should be more opportunities for younger players to play more competitively?
Your comments
We should buy some new players for the squad to improve.
Elliot, Croyden, England
The coach shouldn't go harsh on the players and they could use more practise.
Naomi, Scunthorpe, England
You should tell them off if they don't play well.
Harry, Birmingham, England
I think that instead of keeping young English players on the bench or in the reserves for a premier team, clubs should put them on loan or in the under 21s where their talents will be appreciated more at their level.
Rufus, Islington, England
I would improve the England footy team by having cheer leaders to encourage the team when they play matches.
Jessica, London, England
I think they should give the England players hard training so that they can be like England legends David Beckham and Michael Owen.
Manjot, London, England
I would improve the England team by getting child cheerleaders.
Alexandra, London, England
Play good football. Or stop. Just stop. Stop messing around and get stuck in!
Carlton Le Willows Academy, Nottingham, England
Play better football and don't just pass it around try and score and put a good line up on.
Adam, Guildford, England
Give the youngsters a chance and and play new tactics and formations. Play players from the top four teams in the premiership and put Rooney in as well.
Kurt, Guildford, England
You should give some youngsters a chance and not go so harsh on them and try to play some tactics.
Thomas, England
They should improve the England team by getting in the younger players and not keeping the same squad.
Jack, Maidstone, England
They should get better players and make them work more harder in training. They should give the players less money if they played no good.
Theo, London, England
I think they should mix up players from different teams more because lots of the players are from Liverpool and that is not bad because Liverpool is a great team but they should mix it up more.
Lola, London, England
D17 at Sittingbourne Community College sent in these suggestions
Improve their look with pink uniforms thus bedazzling the opponents.
Jack
Get a mascot like a Bull Dog.
Ashley
Put Rooney back in if he feels okay.
Harrison
Get a different football.
Hannah
Limit the players to walking, rather than running, thus avoiding injuries.
Luce
Make them wear bubble wrap to protect them.
Oliver
The kits should be camouflaged so the opponents can't see England coming at them.
Phoebe