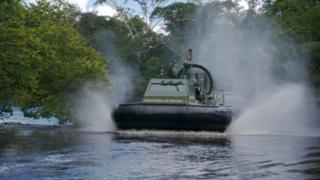 Hovercrafts in fight against drugs
British hovercrafts are being used in Colombia's fight against drugs.
The vehicles travel on a cushion of air which means they can go on land and on water.
It's hoped the hovercrafts could help the police and the army in South America to fight the country's drugs trade.
A lot of the fighting happens deep in the jungle - and that's where these super-flexible vehicles can make a big difference.
BBC security correspondent Frank Gardner has been to see the hovercrafts in action and Leah has this report.
Watch more Newsround videos