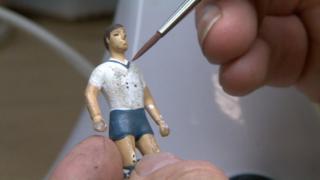 Making the World Cup advert
Aardman animations - the animators behind Wallace and Gromit and Shaun the Sheep - have given MOTD Kickabout's Radzi behind-the-scenes access to the making of the BBC's World Cup 2014 advert.
The promo follows a group of four little flick football figures as they make their journey from the UK and follow their dream to travel all the way to Brazil to watch the World Cup.
Radzi met up with Animations Director Danny Capozzi, who explained the technology needed to make the title sequence and figures come to life...
Watch more Newsround videos