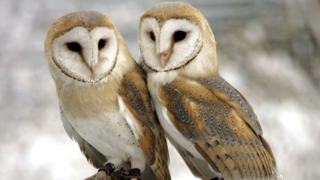 Rare look into a barn owl's nest
A webcam in a owl's nesting box in Somerset has attracted hundreds of thousands of online viewers from around the world.
The nesting box is home to two breeding barn owls named Brenda and Boris. They have had seven eggs and six owlets have hatched.
Somerset Wildlife Trust and the Hawk and Owl Trust have installed 286 boxes all over the county to help stop the decline in owl numbers.
The number of people watching the webcam has increased as the birds gain a real online following.
Project manager Rosie Withill said:
"Lots of people are addicted. Everyone at work is hooked. One school has it on their interactive white board all day."
"It's a fantastic opportunity to see something you wouldn't normally get to see."
The two trusts are hoping to have over 335 boxes made by the end of 2014.
Watch more Newsround videos