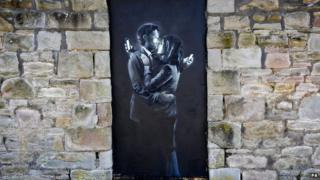 PA
The famous street artist Banksy has said his artwork should be kept by a Bristol boys' club.
His piece appeared in a doorway in the city and was taken away by the leader of a nearby club to raise money.
But Bristol City Council argued the work was on its land and it was taken to a museum for safekeeping.
Now a note to the club, that's confirmed to be from Banksy, says: "You have my blessing to do what you feel is right with the piece."
Dennis Stinchcombe from the boys' club, who found the note, was very pleased.
He said : "Words don't express how delighted I am."