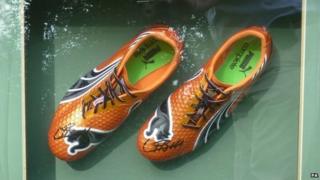 PA
Super sprinter, Usain Bolt, has had a signed pair of his running shoes stolen.
The shoes were framed with a photo of the Olympic gold medallist. He had worn them when he set a world record in 2009 and they were on display in London.
Usain Bolt has appealed for the shoes to be returned.
He said: "I know u love me..but please why u had to go stealing that signed Usain Bolt spikes ..I know u going to return it. Right?"