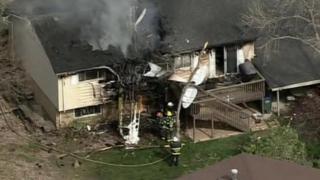 Plane crashes into empty house
A small plane has crashed into a house in America, but luckily nobody was inside and the pilot only received a few cuts and bruises.
The pilot was trying to fly a banner over a baseball game in the state of Colorado when the plane's engine started having problems.
No one was inside the house and the pilot managed to escape.
He even tried to put the fire out before fire crews arrived.
Watch more Newsround videos