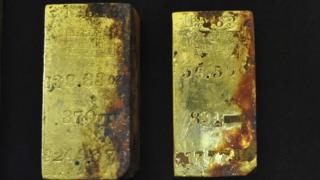 Reuters
Treasure hunters have recovered almost £800,000 worth of gold from a ship that sank more than 150 years ago.
The SS Central America sank in the Atlantic Ocean during a hurricane in 1857.
The wreckage was discovered in 1988 and gold worth millions of pounds was found then but the recovery stopped after legal arguments between the people involved.
Explorers will now try to recover more of the gold on the boat when it sank.
Sunken treasure
The ship's thought to have had 21 tons of gold on board when it sank - that's about the weight of four elephants!
Only around 5% of the ship's cargo was investigated when the ship was first found in the 1980s.
Such a lot of gold was lost when the SS Central America sank it sparked the Panic of 1857, an economic crisis that lasted several years.