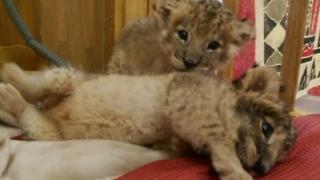 Lion cubs delight visitors at Japan safari park
A pair of lion cubs have been delighting long lines of visitors at a safari park in Japan.
The two cubs, one male and one female, can only be shown to visitors for a short time before they start biting.
And once they become big enough to fend for themselves they'll be introduced into the pride of lions that live in the park.
Leah takes a look...
Watch more Newsround videos