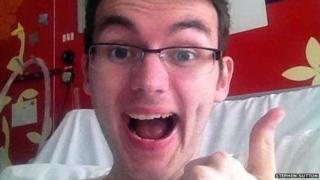 Stephen Sutton
A teenager who has raised more than £3m for charity has broken a world record.
Stephen Sutton from Staffordshire was diagnosed with bowel cancer aged 15 and started raising funds for the Teenage Cancer Trust.
He has written a bucket list - featuring things he wants to accomplish in his lifetime - which includes getting in the Guinness Book of World Records.
His record was getting the most people to make a "heart-shaped hand gesture".
Stephen himself attended the event and the organisers said he was "so excited" to have achieved the record.
Unfortunately, since this story was written, Stephen lost his battle with cancer, and has died. Read our advice if anything in the news upsets you