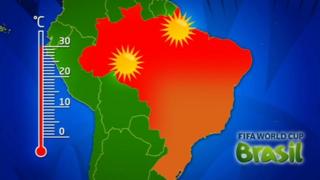 Weather 'too hot' for World Cup matches
The World Cup starts this summer and while there's a lot of excitement around it, there's also concerns that the hot climate will affect players.
One issue that's causing a bit of a stir is the timing of some of the matches.
Certain matches will kick off around lunchtime in Brazil, so that audiences in Europe will be able to watch the matches on TV.
But the temperature, at that time of day, can be way over 30C and some people are worried it'll be too hot for the players.
Ayshah's got more on this.
Watch more Newsround videos