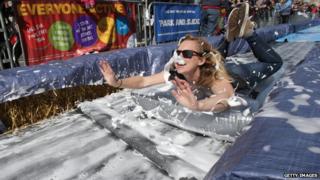 Getty Images
Have you ever dreamed of going down a 90 meter long water slide?
Well around 300 lucky people in Bristol have been given the chance to do just that.
Roads have been closed in the city centre to make way for the spectacular structure.
It's made using plastic sheets, hay bales, water and washing-up liquid.
Organiser Luke Jerram said: "I wanted to close a road - if you look at photographs in the 1900's you see these beautiful empty streets with all the kids playing out - it's an extraordinary thing and all that has been taken away."
"I'm happy to take over a street, and this slide is an architectural intervention really."
Mr Jerram said he was told by the council on Thursday his "Park-and-Slide" could "definitely" go ahead.
The project was first announced in March by the Bristol-based artist, and it's hoped to be repeated every first Sunday of the month.