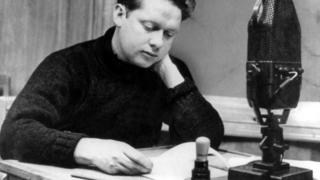 Who was Dylan Thomas?
Perhaps the most famous Welsh writer, Dylan Thomas, was born 100 years ago and this year will see big celebrations of his life and work.
He was a big celebrity: a poet and playwright who made words sound like music. People would be reduced to tears as they heard his writing performed.
This weekend sees a big party in the small Welsh village of Laugharne (pronounced 'Larn') where he wrote many of his poems.
It's a place that had a big influence on a lot of Dylan's writing.
Nel reports from Laugharne on why he's still so well-loved today.
Watch more Newsround videos