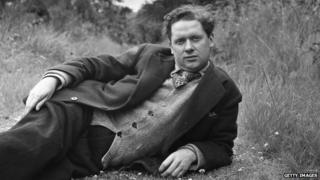 Getty Images
Perhaps the most famous Welsh writer, Dylan Thomas, was born 100 years ago and this year will see big celebrations of his life and work.
He was a big celebrity: a poet and playwright who made words sound like music. People would be reduced to tears as they heard his writing performed.
Dylan started writing poetry at just eight years old, and aged 10 had poems published in his school magazine.
His dad was the editor, which might have helped!
The boy in Wales
A lot of his writing was about his childhood as a boy growing up in Wales, and one of his most popular poems - A Child's Christmas in Wales - remembers how much he loved Christmas time when he was a young boy.
He grew up in the city of Swansea in south Wales but when he was grown up lived in London and spent time in America's New York City.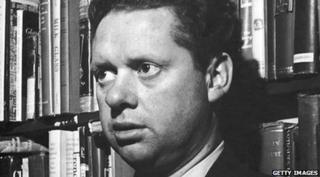 Getty Images
The 100th anniversary of Dylan Thomas's birth isn't until 27 October, but there'll be events and festivals going on all over the world, throughout the year. It's thought £100million has been spent on the celebrations.
This weekend sees a big party in the small Welsh village of Laugharne (pronounced 'Larn') where he wrote many of his poems. It's a place that had a big influence on a lot of Dylan's writing.
There'll be performances of his work including his most famous play, Under Milk Wood, as well as music, poetry and other events.
Dylan Thomas died on 9 November 1953 at the age of just 39, but his poems and plays are still enjoyed by millions all over the world.