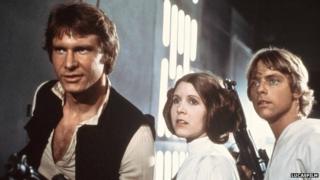 Lucasfilm
Disney has revealed the cast of Star Wars: Episode VII will include original Star Wars actors Harrison Ford, Carrie Fisher and Mark Hamill.
The trio appeared in the very first Star Wars film back in 1977.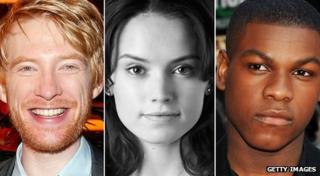 Getty Images
Domnhall Gleeson, who starred as Bill Weasley in the Harry Potter films, is also confirmed to appear, with British actors Daisy Ridley and John Boyega.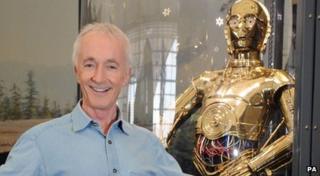 PA
Anthony Daniels, Peter Mayhew and Kenny Baker will also return as C-3PO, Chewbacca and R2-D2.
Open auditions for two roles in the new films were held in the UK and Ireland last November.
It has not been confirmed whether the new cast came from the auditions, but all have previous acting experience on screen.
Director JJ Abrams said: "We are so excited to finally share the cast of Star Wars: Episode VII. It is both thrilling and surreal to watch the beloved original cast and these brilliant new performers come together to bring this world to life, once again."
Episode VII will be recorded at Pinewood Studios near London in May.