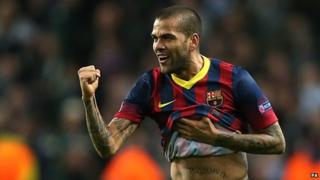 PA
Barcelona star Dani Alves says he wants a racist fan who threw a banana at him during a game to be "publicly shamed".
A big anti-racism movement sprang up online after Alves calmly picked up and ate part of the banana, at Barca's match at Villareal on Sunday.
Top players Neymar and Sergio Aguero then posted pics of themselves eating bananas, tagged "We are all monkeys".
Bananas are used as racist symbols in European football and Villareal say they've given the fan a lifetime ban.
But Alves said he wanted more than that: "If I could, I would put a photo of the fan on the internet so that he would be shamed."
Speaking to a Brazilian radio station, Alves also criticised Spain for what he says are "backward" attitudes towards racism.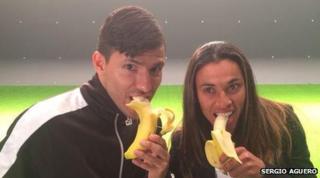 Sergio Aguero
"There is racism against foreigners," he said. "They sell the country as being first world but in certain things they are very backward."
"I have been surprised by everyone's support," he said. "I did it without thinking. The world has evolved and we must evolve with it."