Preparations for the 2016 Rio Olympics are the "worst" ever seen. That's according to International Olympic Committee vice-president John Coates.
He said the IOC has had to place special experts in Rio's organising team to make sure the Games go ahead - something that's never happened before.
"The situation is critical on the ground," he said.
Brazil also faces a struggle to be ready in time for the Fifa World Cup, which starts in just 44 days.
Australian Mr Coates, who has been involved in the Olympics for nearly 40 years, has made six trips to Rio to look at how the preparations are going.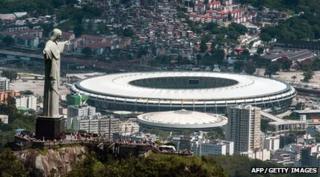 AFP/GETTY IMAGES
"The IOC has adopted a more hands-on role," he said. "There is no Plan B. We are going to Rio."
He believes it's "a worse situation" than in 2004, when there were big worries over preparations for the Athens Games in Greece.
"It's the worst that I've experienced," he added. "We have become very concerned. They are not ready in many, many ways.
"We have to make it happen and that is the IOC approach. You can't walk away from this."
He said that building work has not even started on some venues in Rio, and that transport systems aren't ready either.
He added that Rio organisers have the same number of staff - 600 - as London did at the same stage ahead of 2012, but Rio's staff do not have the necessary experience.
John Coates helped deliver the Sydney 2000 Games as head of the Australian Olympic Committee. He said it was proving difficult for the IOC to get the answers they needed.
"No-one is able to give answers at the moment," he said.