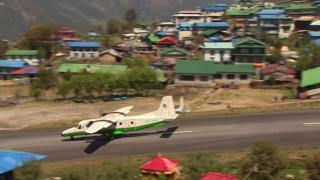 Is this the world's scariest airport?
An airport in the town Lukla, Nepal, is known as one of the scariest airports in the world.
The town is where climbers begin their hike to Mount Everest base camp and is busy right now as climbers leave the mountain, after .
The runway on the airport has a very steep sloping fall so small planes need to be flying at top speed to take off.
Landing the plane is as difficult as setting off, with a thin landing strip to aim for.
The BBC's Yogita Limaye sent this report.
Watch more Newsround videos