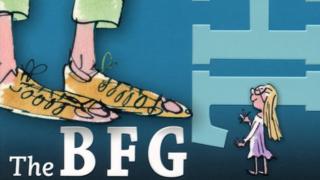 quentin blake
Film director Steven Spielberg is turning Roald Dahl's book The BFG into a live action movie.
The book was published in 1982 and tells the story of an orphaned girl who makes friends with a giant. An animated movie version was made in 1989.
The film is likely to be released in 2016 to mark the 100th anniversary of Roald Dahl's birth.
Steven Spielberg said: "The BFG has enchanted families and their children for more than three decades."
Quiz: How much do you know about Roald Dahl?
We already know the film will use actors instead of animation, but at the moment we don't know who will play the BFG.
Comments page closed.
Your Comments
Arnold Schwarzenegger seems best suited for the part.
Nicole, Warminster, England
I agree with Jess, London [below] because Jonny Depp was great in Charlie and the Chocolate Factory, so he obviously suits Roald Dahl's book-based films! I'm just wondering how they're going to make the actor tall enough though!
George, Bristol, England
I think David Walliams would be perfect for this part... he would definitely suit it! He is really funny too!
Abigail, Billingham, England
I think Jim Carrey would be amazing as he's a really talented actor!
Georgia, North Yorkshire, England
Robbie Coltrane, Hagrid, as he is very tall and he has a gruff voice and would make a great BFG and would look good with big ears :-D
Lauren, Sleaford, England
I think Bill Nighy should play the BFG because he is a really great actor and has already played lots of different roles in movies.
Grace, Devon, England
I think Benedict Cumberbatch or David Tennant should play the BFG because they're both amazing actors and are really good at being Sherlock Holmes and Doctor Who.
Benjamin, Conwy, North Wales
I think that Johnny Depp should be the BFG because he is a great actor and he is funny.
Jessica, London, England
I think that Greg Davies would be perfect!
Thomas, Mold, North Wales