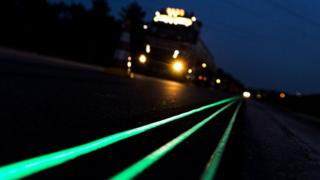 AFP
Glow in the dark road markings have been removed from a road in the Netherlands.
The markings were being tested to see if they could be useful to drivers.
The painted lines would charge up with sunlight in the daytime and glow green at night, getting rid of he need for streetlights.
But some drivers were driving along the road with their headlights switched off to experience the glow in the dark effect. That could be dangerous.
Heijmans, the company behind the trial, also found the markings didn't work as well when they got wet after rainfall.
The company said: "We are working on developing Glowing Lines version 2.0, which will be ready for this summer."
The UK Highways Agency, which looks after roads in the UK, said glowing paint would be "unsuitable for use in this country", possibly because it's not sunny enough.