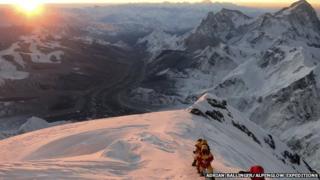 Adrian Ballinger/Alpenglow Expeditions
All climbing on Mount Everest has been cancelled for the rest of 2014 over safety fears.
A deadly avalanche on 18 April killed 16 Sherpa mountain guides - the worst accident in Everest's history.
It sparked a big row between Nepal's government and the Sherpas over safety conditions, and how much they're paid.
The Sherpas were angry at how much the government makes from foreign visitors climbing Everest: they believe they should get a bigger share of the money.
They also wanted more compensation for the families of the guides who died, and they refused to climb out of respect for the dead, and because they were worried about the possibility of more avalanches.
A week after the accident, climbers began to leave the mountain as hopes faded of making the summit during the annual 'weather window' - the period each year when the weather is favourable to reach the top.
It could be the first year since the 1970s that nobody reaches the summit of the mountain.
Read more: How do you climb Mount Everest?
Every year hundreds of climbers attempt to make it up Everest, the highest peak on Earth. Many rely on Sherpas to lead them on what is a dangerous and risky mission.