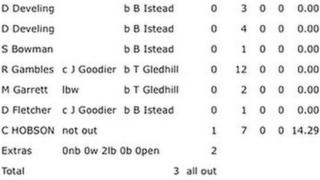 Other
A cricket team took a serious beating at the weekend after only scoring three runs between them.
Ten Wirral Cricket Club batsmen were out for nought. Only the number 11 troubled the scorers, with the other runs coming from two extras.
It meant their opponents, Haslington, who scored 108, won by 105 runs.
Three all out is bad, but it didn't beat the world record lowest score of 0 all out - by Somerset club Langport against Glastonbury in 1913.
What's your worst sporting defeat?
It got us wondering: what's the worst loss you've ever had in sport?
Maybe your football team lost 20-0 - or have you played in a cricket side that were bowled out for less than 3?
The Comments page has now closed.
Your comments:
We had a soccer tournament. In one of our matches our opponent forfeited. So we just played a friendly match with someone else and we lost 0-11.
Sohaib, Doha, Qatar
At sports day the whole of my year group raced - and I came last.
George, Maresfield, England
When I was ill my football team played and lost 16-1. When I came back weeks later and played the same team we won 3-1.
Alfie, Reading, England
I have a lot of choice! My football team has suffered so many big losses this season that it's so hard to choose but probably a 15-0 drubbing.
Sam, Reading, England
My gaelic football team lost three matches in a row - but finally won our fourth match.
Siofra, Dublin, Ireland
The worst loss I had in sport was coming last in a swimming gala. I was really annoyed with myself.
Jessica, London, England
My hockey team lost 9-0, we were only 1-0 down at half time but in the second half 2 of their goals were 100% my fault and I got sent off too.
Alex, North Yorkshire, England