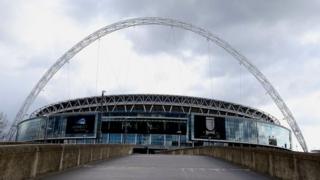 PA
Uefa have announced that the semi finals and final of Euro 2020 will be held at either Wembley or Bayern Munich's Alli Ance Arena.
European football's governing body will choose between the two venues on 19 September.
For the first time games will be held in countries across Europe instead of being concentrated in one or two.
Stadiums in Wales, Scotland and Ireland are still in the running to host other games during the competition.
Bidding for the 2020 Euros
Wales, Scotland and the Republic of Ireland are all bidding to host games too.
"We are extremely happy to have received so many bids to host Euro 2020," said Uefa president Michel Platini.
"The 60th year anniversary edition of the tournament will be a historic one, with matches played in many European countries."
A number of the 32 countries who initially registered an interest have dropped out of the running, including Portugal, Poland and the Czech Republic.
Watch Ricky's report about the bids and where Euro 2020 matches may be held.