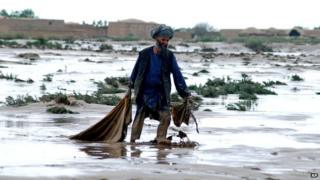 AP
At least 80 people have been killed and hundreds are stranded following severe flash floods in northern Afghanistan.
People have been trapped on the roofs of their houses and thousands of homes have been destroyed.
Rescue helicopters have been deployed to help find people are take them to safety.
The governor of Jowzjan province, an area badly affected by the floods, warned that the number of victims was likely to rise.
There are reports of flooding in other provinces in the north and west of Afghanistan.