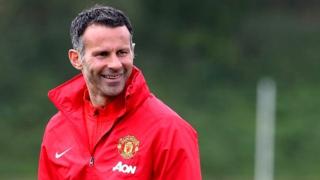 Giggs's first game as United manager
Saturday's match against Norwich City is Ryan Giggs's first game as temporary manager of Manchester United.
The former Wales captain is one of the most celebrated players in football history.
He has played more than a thousand matches for United and won 13 Premier League titles with the team.
Giggs was asked to stand in as temporary boss after United sacked manager David Moyes just 10 months after he succeeded Sir Alex Ferguson.
At 40 years old he's a United legend - popular with both fans and players, but does he have what it take to manage the team?
Watch Leah's report to find out.