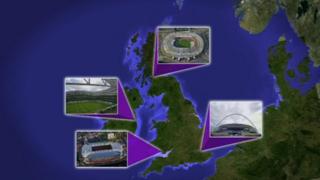 Euro 2020 bidding process starts
It might seem a long way off but the bidding process for the 2020 European Football Championships has started.
For the first time games will be held in countries across Europe instead of being concentrated in one or two.
The Football Association is suggesting Wembley Stadium as a possible venue and Wales, Scotland and the Republic of Ireland are all bidding to host games too.
Ricky has been looking into where the matches might be held.
Watch more Newsround videos